Restonic Mattresses


Top Rated, Memory Foam Mattresses | Edwards Furniture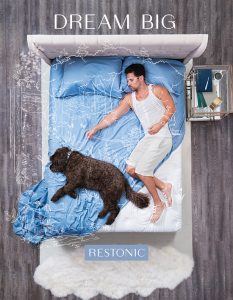 Edwards Furniture in Springboro, Ohio is proud to offer the Restonic Biltmore line of mattresses. These top rated, memory foam mattresses ensure a quality night's sleep, along with Edwards' affordable financing and delivery options.
Biltmore is synonymous with gracious hospitality and attention to detail. From the moment George Vanderbilt first opened his home in 1895, family and friends were welcomed with the finest amenities and conveniences to ensure that their stay was completely restful.
Restonic continues that legacy today to provide the same quality and comfort Mr. Vanderbilt's guests would have enjoyed. With distinctive details drawn from America's Largest Home® and surroundings, our Biltmore mattress collection – including the Deer Park and Meadow Trail mattress lines – is thoughtfully designed to reflect the deeply personal preferences of today's consumers.
Inspired by Biltmore's long-standing tradition of peaceful relaxation, Restonic now elevates the art of sleep from an ordinary experience to a masterpiece of tranquility.
View the Restonic Deer Park mattresses we offer…
See the Meadow Trail line of mattresses…

Contact Edwards Furniture today by calling (937) 746-4559,
or clicking here to send us an e-mail…